All News
MHT Ready To Fly
Manchester-Boston Regional Airport continues facility enhancements to keep passengers safe.
Manchester-Boston Regional Airport encourages all travelers to make themselves aware of the health and safety protocols established by the Centers for Disease Control and Prevention and New Hampshire Department of Health and Human Services with regards to COVID-19. Should you have questions or concerns about COVID-19, please consult the following:
Although there are no formal restrictions in place, New Hampshire asks out-of-state residents who will be traveling to and staying in New Hampshire for an extended period of time to self-quarantine for a two-week period. Travelers from Maine, Vermont, Massachusetts, Connecticut and Rhode Island do not need to quarantine.
When visiting NH, please review the NH Travel and Tourism website for the latest information at Visit NH. If you are eager to explore New Hampshire and find out which businesses are open, check out the Open NH website.
In order to ensure a clean and safe operating environment for both passengers and employees, MHT is continuing to implement procedures to improve social distancing and sanitation practices while we monitor local and national guidance to further build upon our strategies.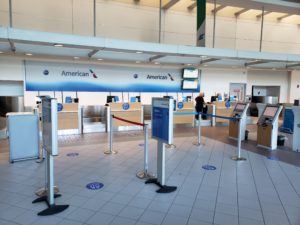 We're actively making updates to facilities, adapting to passenger needs, and working to reduce the spread of COVID-19 in our community and beyond. MHT prides itself on having a less crowded, more enjoyable passenger experience, and that continues as we work towards the return of business and leisure travel.
Ted Kitchens, Airport Director at Manchester-Boston Regional Airport, said the Airport is taking steps to ensure the environment is clean, the staff is healthy and MHT is ready for business. "As part of our commitment to passengers, we have increased cleanings with EPA-approved disinfectants and electrostatic cleaners in areas frequently touched by passengers, such as the TSA security checkpoint and bins," Kitchens said. "MHT has also deployed public health guidance PSAs in terminal bathrooms and public areas advising passengers on how to prevent the spread of COVID-19. Today, and every day, our number one priority is to keep you safe, and we will continue to invest in new ways to make your travel safer."
Important safety precautions MHT is implementing to protect our travel community include:
PLASTIC SHIELDS: Plexiglass shields are installed in key areas such as concession counters, airline ticket counters, boarding gates and the TSA security checkpoint.  
FACE COVERINGS: All Airport employees, airline employees and TSA are required to wear face coverings when around other people.
SOCIAL DISTANCE MARKINGS: Ground markings and signs will help identify six-foot distancing guidance at ticket counters, boarding gates, shuttles, restrooms, food/retail counters and other public areas. We're also pursuing social distancing in work practices to protect Airport staff.
REDUCED SEATING: Seating has been reduced or spaced apart in places such as gates, dining areas and workstations.
CLEANING AND SANITATION: Our cleaning team has increased the frequency of cleaning all touchpoints, including surfaces, handrails and elevator buttons. We have added hand sanitizer stations throughout the Airport as well as several electrostatic cleaners using cutting-edge disinfection applications. We're also deploying additional signage to promote passenger hygiene and other best practices to keep you safe.  
In addition to these and more changes, MHT is urging its passengers to follow CDC guidelines to stay healthy, as well as the following:
If you do not feel well or have a fever, do not travel.

All passengers and guests should wear face coverings while at the Airport in any capacity.

Passengers should plan to arrive at the airport at least 1-2 hours before departure to allow for additional time to follow social distancing procedures (keep 6 feet from others) and prevent crowding caused by last-minute rushing before scheduled flights.

Travelers should use carry-on luggage and mobile boarding passes to limit shared touch points.

Those picking up or dropping off passengers should not enter the terminal; instead, they should use the Cell Phone Lot or stay in their vehicles in the Short Term Lot or Parking Garage unless they are assisting unaccompanied minors, passengers with disabilities, or others who need assistance.
Manchester-Boston Regional Airport will actively monitor local and national health guidelines as we continue to develop and implement plans to keep passengers and employees safe. For more updates about MHT, follow us on Twitter, Facebook, Instagram and LinkedIn.