All News
Avelo Inaugural Photo Contest
Avelo Inaugural Photo Contest
Win two round-trip tickets on Avelo Airlines
and go explore the Raleigh-Durham area!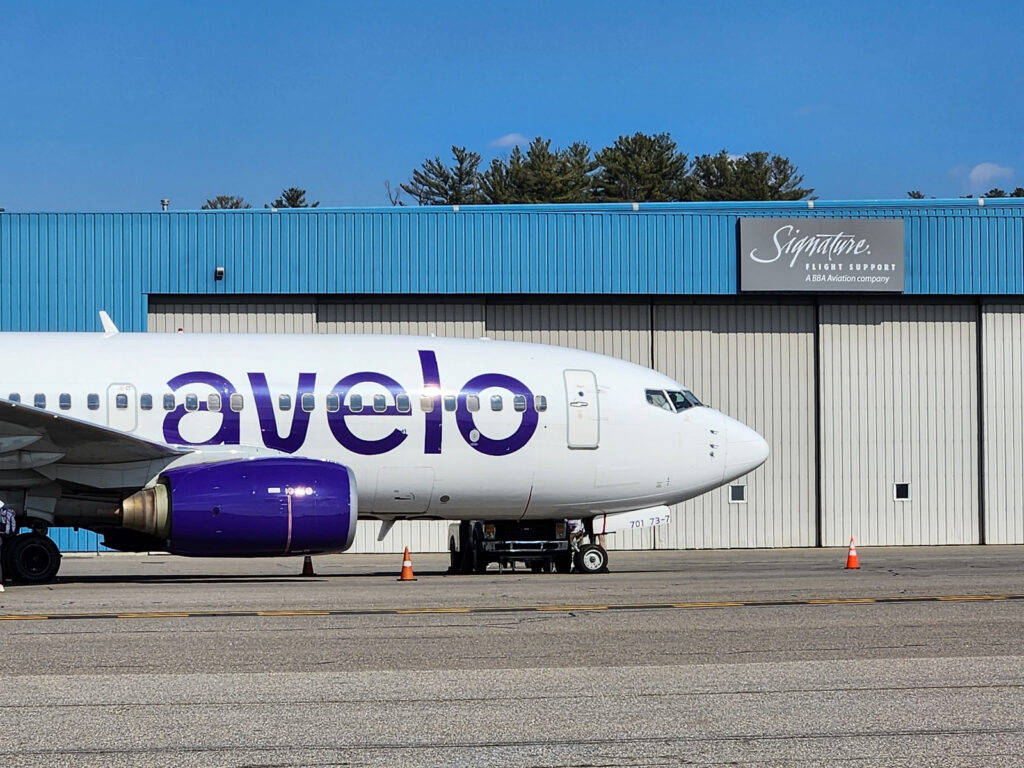 Contest Goal
Capture the best photo of Avelo's first arrival and departure at MHT on June 21, 2023. Each individual can enter two photos—one photo for the first landing and one for the first takeoff.
Contest Prize
Win a pair of round-trip tickets on Avelo Airlines from MHT to Raleigh-Durham International Airport (RDU). Flights must be booked and completed by 12/31/23. Each ticket includes priority boarding, 1 carry-on, 1 checked bag, and a seat assignment up to $20.
How to Enter
Share up to two photos on Instagram, Twitter, or Facebook.
Tell us in the caption if it's an arrival or departure.
Tag @flymanchester and @aveloair in your post.
Direct message us your photo so we can share it at its highest quality!
All photos must be shared by 3 p.m. on June 27, 2023.
How to Vote/Win
All photos will be shared on Manchester-Boston Regional Airport's Facebook page in an album called "Avelo Inaugural Photo Contest." This album will be shared on Wednesday, June 28. Each photo will include photo credit and if it's an arrival/departure.
Vote on your favorite photos (by liking each individual photo) from June 28 until 3 p.m. on July 5, 2023.
Share with your friends—anyone can vote for as many photos as they want!
The 3 arrival and 3 departure photos with the most likes will then be presented to the Airport Director for the decision of the final two winners.
Contest Rules
Each photographer may submit two photos—one from Avelo's first arrival and one from Avelo's first departure—for a total of two entries into the contest. Both photos must be from the June 21st inaugural flights, and both photos must be the individual's own photos.
Each individual may only win with one photo—this way, there will be two winning photographers (each winner will win their own pair of round-trip tickets).
By entering the contest, all individuals give the Airport permission to use their photos (with photographer credit) on the Airport website, social media, and other promotional materials.
Individuals must be at least 13 years old to enter the contest.
By entering in this contest, all users agree to these terms and conditions.
Generic Planespotting Rules
Planespotting refers to observing, tracking, and photographing Airport operations and aircraft.
Planespotters must remain in publicly accessible, non-secure areas of the Airport, unless under escort by properly badged Airport personnel.
Planespotters should be courteous and respectful towards all Airport personnel and passengers. Even when in public areas, planespotters must always follow the directions of properly badged Airport personnel.
Drones and any other unmanned aircraft systems are not allowed to be flown at the Airport. For more information about where you can fly your drone, please visit this page.
Airport Rules and Regulations take precedent over any rules on this page, if there is ever a conflict.