Partner Hiring Event at MHT
Partner Hiring Event at MHT
This page is being shared by Manchester-Boston Regional Airport for their partner, Trego-Dugan Cargo, upon their request. Should you have questions or comments regarding this information, please reach out to the company via their number on the poster below.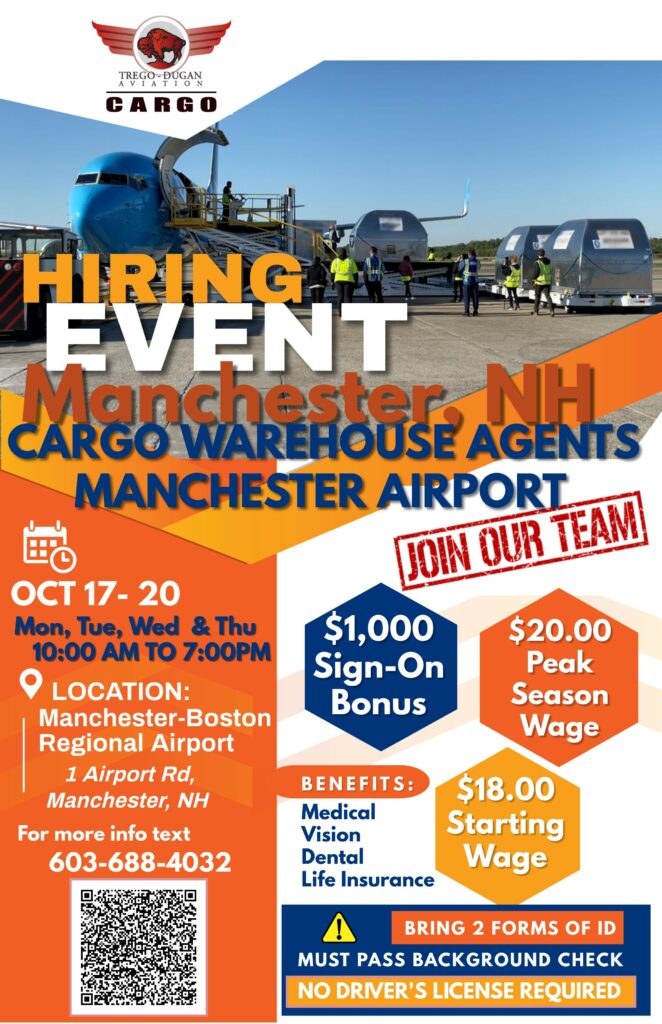 Hello Manchester!! Trego-Dugan Cargo ✈️ is coming to town! We are looking for enthusiastic individuals 😎 interested in joining our new Cargo Warehouse Operation! 📦
If you want to start a new career, we have something fun and challenging. 😎😎 Come check us out at our 3-day hiring event! We are hiring Full-Time Cargo Warehouse Agents at the Manchester-Boston Regional Airport – MHT.
📆 Monday, October 17 ⏰ 10:00 am – 7:00 pm
📆 Tuesday, October 18 ⏰ 10:00 am – 7:00 pm
📆 Wednesday, October 19 ⏰ 10:00 am – 7:00 pm
📆 Thursday, October 20 ⏰ 10:00 am – 7:00 pm
📍 Location:
Manchester-Boston Regional Airport
1 Airport Road
Manchester, NH 03103
📲❓: TEXT 603-688-4032
Benefits:
✅ Starting Wage $18.00
✅ Peak Season Wage $20.00
✅ Full-Time Positions Available
✅ Medical, Dental, & Vision
✅ Paid Time Off
***NO EXPERIENCE REQUIRED***